President's Message
Focusing on developing The Products in Need rather than
The Salable One

.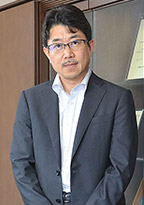 Ci Medical is Japan's top leading player in the distribution of dental and medical devices in the mail-order business sector. Since its inception in 2000, we have actively played a vital role in driving the development of dental industry by making available desired necessary products and offering them affordable to the market. We have put our full efforts on developing products based on new prospective and potential needs rather than just going for the salable ones. We have established our position in the market by sensibly and continuously striving to provide products and services while prioritizing the happiness and satisfaction of dental professionals and patients.
January 2020 marked our 20 years of rapid, uninterrupted and consistent growth. We have successfully expanded our business covering around 94% of the dental market, nationwide. Nevertheless, in this rapid changing era, though we could make reference from our challenges and achievements in the past, we shall put utmost importance on exploring innovative ideas and pursuing new possibilities with rational judgments.
We have ventured on supplying Veterinary, Nurse Care Facilities and Medical products, extending our altruistic spirit towards these industries. Similarly, we take immense pleasure and enthusiasm on stepping in and taking our presence beyond domestic market. We strongly believe that it is our responsibility to fulfill spreading the importance of oral health and its relation to the overall well-being of the human body, thereby contributing to the longevity and healthy living of the society. We are excited to unveil what is beyond our existing horizons, and wherever our path is leading us since its foundation, we shall be offering our seasoned expertise that would ensure the happiness and satisfaction of the customers.
CEO, Dr. Kiyoto Shimizu