Business Contains
Since its establishment in 2000, as a supplier of dental care products, Ci Medical has extended the business to various fields, focusing mainly on manufacturing, designing and selling dental care products, with a strong belief of making doctors and patients happy. We are proud that we were able to reach the top in the industry with the Customer First Principle.
Our specialty is in efficient handling of the products from their development phase to sales. Our low cost and high-quality products are widely delivered to 60,000 dental clinics all over Japan, holding top share on toothbrush sales quantity and mail-order business in the dental industry of Japan. Our CAD/CAM center is providing milling machines, scanners, software solutions to dental facilities in Japan. With all these business opportunities, Ci Medical is now dealing with almost all necessary items for dental clinics, including high-tech dental machines. Besides dental industry, Ci Medical provides products and services on veterinary, nursing & care facilities, medical industry as well.
Furthermore, Ci Medical is providing solutions on the creation of websites and has even started supplying cost effective electricity to the clinics, which further ensures the satisfaction and the happiness of the doctors and patients.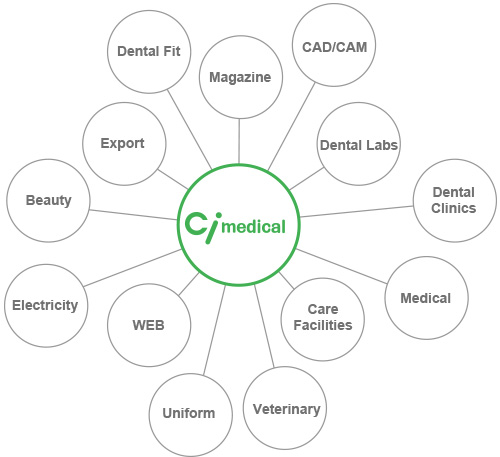 Mail Order Business
Catalog for dental clinics
No.1 Dental mail order catalog with overwhelming quality products at good price.
This catalog has been widely used around 60,000 dental clinics all over Japan. It contains more than 30,000 dental products both originally developed by Ci Medical and from domestic / overseas makers. We cover and support everyone who are related to dentistry with the products ranging from disposable items like gloves, masks to dental medicine, instruments and equipment at a very reasonable price.
Catalog for Dental Laboratories (Dental Labo)
For the satisfaction of the customer, we provide "Required items timely"
This catalog is lined-up with a variety of dental products from day-to-day consumables to laboratory equipment and machines. With an idea of "Something better and easier to purchase", we keep promoting original products and other products being consumed on a daily basis.
Catalog for all workers inside the clinic (Nurse+ Care)
We provide the best design and comfortable medical wears for the clinic workers.
We provide not only original nurse wear products such as uniforms, aprons, and sandals but also products manufactured by domestic main makers to meet various needs of customers who are planning to open their own clinic. We provide high-quality domestic products and carefully selected overseas products at affordable prices.
Catalog for Nursing and Care Facilities (FreshCare)
We provide quality products necessary for nursing and care facilities at great prices.
We provide a wide range of products necessary for nursing homes which includes infection prevention items such as masks, germicidal disinfectant, disposable gloves, influenza prevention products, nursing care aids for food, bathing, walking and excretion etc., diagnostic treatment apparatuses such as gauze and sphygmomanometer (blood pressure gauge), and furniture such as tables, chairs for the facility, staff wears, detergents and cleaning agents, etc.
Catalog for Veterinary Clinics (Vet)
We provide products necessary for veterinary clinics selected on quality basis at reasonable price.
In this era, pets are loved and treated like family members by many people all around the world. We provide quality products at affordable prices in order to satisfy the needs of animal doctors and staff members who care for the animals. We are providing a wide range of products used in veterinary clinics, such as steel-made utensils, hygiene and sanitary materials, examination equipment, medicines and other consumable items.
Catalog for Hospitals and General Clinics
We provide product necessary for hospitals and medical facilities selected on quality basis at reasonable price.
We provide a wide range of products necessary for medical clinics and hospitals which includes infection prevention masks, disposable gloves and disinfectants, sanitary materials and medical supplies used for medical inspection and examination including examination tickets, presents for kids, furniture for clinics etc.